Fixed Stud Tensioners

HTI's Fixed Stud Tensioners are Compact & Economical
Fixed models are designed to fit specific stud sizes, and provide and extremely compact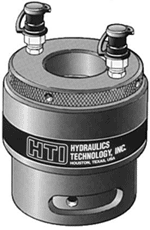 tensioner that is simple to use, and economical to buy.
Trouble-free, No-Leak, Lo-Friction Seals
Overstroke Indicator
Extra-Long Working Stroke (0.6 inch/15mm)
Compact and Lightweight Design
Simple to Operate and Maintain
Total Quality Assurance
Dependable Operation
Twin Hydraulic Ports

Fixed models are compact, simple to use and the most economical. Each tool is designed for one thread size.

The operator places the Bridge over the nut and threads the Load Cell on to the stud until it contacts the bridge. He then connects the hoses and follows the general operating steps noted above.
To receive more information about the above products, please call, fax,
e-mail
or use our
Inquiries page

Tools for Industry Inc.,
812 Oceola Drive, P.O. Box 7555, Algonquin IL. 60102
Phone: (847) 658-0455, Fax: (847) 658-4555, Toll Free: (800) 658-8014, E-mail:
TFIinc1@aol.com