Nibblers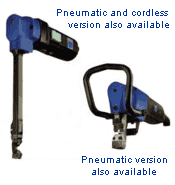 Trumpf has developed two types of nibblers. The Rectangular Punch Nibbler for cutting thicker and higher tensile materials and the Round Punch Nibbler, which allows 360 degree rotation within the cut path.
With the Trumpf Profile Nibblers, three dimensional jobs may also be tackled. This tool allows to cut through right-angled and multiple profiles

Trumpf nibblers are a superior, emmision-free, environmentally safe alternative to traditional methods of cutting with abrasive wheels and flame cutting.

Specifications
| | | | |
| --- | --- | --- | --- |
| Model | | N 1000 - 0 | PN 161 - 0 |
| Max. thickness | | | |
| Steel 57,000 Tensile | ga. (in.) | .375/.312 | .063 |
| Steel 85,000 Tensile | ga. (in.) | .276/.196 | .040 |
| S/S 114,000 Tensile | ga. (in.) | .196/.157 | .029 |
| Alum. 35,000 Tensile | in. | .500 / .375 | .105 |
| Working Speed | ft./min. | 3.25 / 5.25 | 6 |
| Start hole dia./throat depth | in. | 3.00 | 1.00 |
| Smallest radius | in. | 16.0 | 2.00 |
| Motor rating | W | 2000 | 500 |
| Strokes at nominal load | per min. | 230 / 370 | 1400 |
| Weight | lbs. | 32.0 | 5.0 |
| Double insulated | - | yes | yes |
To receive more information about the above products, please call, fax,
e-mail
or use our
Inquiries page

Tools for Industry Inc.,
812 Oceola Drive, P.O. Box 7555, Algonquin IL. 60102
Phone: (847) 658-0455, Fax: (847) 658-4555, Toll Free: (800) 658-8014, E-mail:
TFIinc1@aol.com