Rebar Benders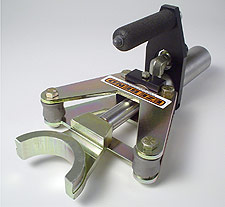 Two Models Available - 1" & 3/4" Capacities
Our Benders provide many creative 'job-site' fabrication solutions. By pulling the rebar against stationary pins, rebar bends SAFELY away from the operator. This bending action, coupled with an operating head that can pivot 360 degrees, makes the Pull Bender the perfect tool for bending 'cast-in-place' rebar. Planning on the ease of bending 'cast-in-place' rebar can simplify many projects.
Alert operation is the key to safely using the Pull Bender. First, the rebar must be placed carefully within the cradle, lying flat against the cradle and in the middle of both rollers. The rebar must extend beyond both roller pins by a minimum of 1 inch. Pulling on only one pin will cause mechanical failure and may cause serious injury.
To rotate the Bender Head, loosen the 5/16 bolt in the center of the front block. Rotate the top and bottom plate assembly to the desired location. Avoid applying pressure to the 90-degree elbow during rotation process. When the Bender is new, you may need to alternately rotate the cradle and the top/bottom plates until desired angle is obtained.
To receive more information about the above products, please call, fax,
e-mail
or use our
Inquiries page

Tools for Industry Inc.,
812 Oceola Drive, P.O. Box 7555, Algonquin IL. 60102
Phone: (847) 658-0455, Fax: (847) 658-4555, Toll Free: (800) 658-8014, E-mail:
TFIinc1@aol.com