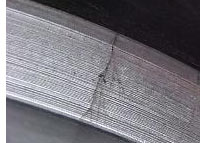 Magnetec Inspection, Inc.
| | |
| --- | --- |
| • | On-site inspection of Tubular Process Equipment |
| • | High and Low Pressure Feed Water |
| • | Tubular Heat Exchanging |
| • | Cooling Equipment in the Petro-Chemical, Chemical, Paper/Pulp, and Electric Power Generating Industries |
Magnetec Inspection's continuing emphasis is on supplying high quality, Eddy Current, and Remote Video inspection services to their customers on heat and cooling exchangers. Through advancement in personnel training, product data development and R&D activities, they will remain at the leading edge of technology and provide for customers the most up-to-date, reliable and quality inspection services available. Capabilities not only encompass the inspection and analysis of Eddy Current data, an evaluation of the exchanger is based on metallurgy selection, corrosion engineering, failure mechanism analysis, design, performance and life expectancy. As part of the inspection process, sample tubes are removed from the exchanger to further define the corrosion mechanism and to provide material for met-lab work and coupled with the report provide long-term documentation of the active corrosion mechanism present in the specific exchanger. With over 20 years of Eddy Current inspection of tubular heat exchanger equipment Magnetec has the backround, experience and ability to fully define the component condition and determine the corrosion mechanism present.

Tools for Industry Inc.,
812 Oceola Drive, P.O. Box 7555, Algonquin IL. 60102
Phone: (847) 658-0455, Fax: (847) 658-4555, Toll Free: (800) 658-8014, E-mail:
TFIinc1@aol.com