Indexes
Airetool
Tube cleaning, testing, plugging & retubing tools for boiler, heat exchanger & HVAC work.
ATP/Ozat
High quality industrial strength sockets, adaptors, slugging wrenches and accessories.
DL Ricci
State-of-the-art field machining/heat treating equipment for tube/pipe work and onsite equipment repair.
E-Pro
Quality gaskets for - 55°F
to + 300°F , 180 psi applications
Francis Torque
Quality in-line/square drive hydraulic wrenches for 0-10,000 ft. lb. torquing applications.
Henry Air Tools
High quality, reasonably priced, pneumatic grinders, saws, rammers, etc...
HTI
Hydraulic tensioners & hydraulic nuts.
Simplex
Quality Hydraulics:
Pumps, cylinders, jacks, presses, airbags, nut splitters, etc...
Trumpf
Nibblers, shears, seam lockers, etc...
Quality Pneumatic
Mag drills, band saws, drills, burr bits, saws, hammer drills, electric motors.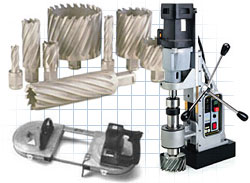 Innovation and high quality are synonymous with our Pneumatic and Electric Industrial Power Tools. We carry a wide range of portable magnetic drills, pneumatic and electric concrete core drills, air powered concrete saws, hydraulic, electric and pneumatic band saws, air chain saws, air hack saws, reciprocating saws, concrete grinders and metal finishing tools for construction and industry.
Additional pneumatic, hydraulic and electrical driven equipment can be accessed through our home page, search feature or indexes to the left.

Tools for Industry Inc.,
812 Oceola Drive, P.O. Box 7555, Algonquin IL. 60102
Phone: (847) 658-0455, Fax: (847) 658-4555, Toll Free: (800) 658-8014, E-mail:
TFIinc1@aol.com