Torque Controlled Rolling Motors

DAS II Dominator Tube Rolling System
The new Airetool DAS II Dominator has been designed to deliver power, performance, durability and unmatched productivity in pneumatic tube rolling technology.
Features

•
All pneumatic system for complete, self-contained tool holding system.
•
No electrical power source required, eliminating typical problems such as fluctuating plant voltages and electrical
interference from other equipment.
•
Push-to-start motor runs only when needed, reducing noise, prolonging motor life and conserving shop air.
•
Standard model features 5' vertical and horizontal reach.
•
Small overall footprint w/4 casters for improved mobility.
•
Larger integral lifting eye.
•
Ergonomic design for operator comfort and ease of use.
•
Smooth, fluid function design for unparalleled production.
•
Tool holding system virtually eliminates operator error.
•
Increases expander life by as much as three times compared to conventional hand-held equipment.
•
Greatly enhances the accuracy of tube rolling reducing costly improperly rolled tubes.
•
Right or left hand operation without conversion.
•
Available with optional auto-lube & cycle counter.
›
Specifications
DAS-100-TRS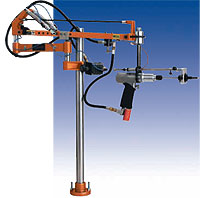 Tube Rolling System for benchtop tube rolling applications 1/4" thru 5/8" O. D. tubes.
Features

•
Rugged Design
•
Push-to-Start Tube Rolling Cycle
•
Facilitates Expander Alignment
•
Absorbs Torque
•
Supports Weight
•
Improves Productivity
•
Reduces Effort Through Ergonomic Design
•
Designed for use with 900, 1300 and 800 Series Tube Expanders
Three models are available:
•
DAS-100-TRS-720 2500 for tube sizes 1/4" OD.
•
DAS-100-TRS-720 1800 for tube sizes 3/8" – 1/2" OD.
•
DAS-100-TRS-720 550 for tube sizes 1/2" – 5/8" OD.
Model 1850-40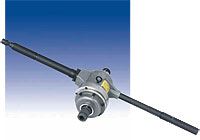 This Airetool pneumatic powered torque controlled rolling motor offers the highest controlled torque of any rolling motor currently available. For controlled torque up to 600 ft. lbs.
Airetrol Air Driven Motors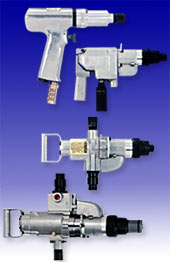 Control expansion by accurate measurement of torque. Automatically stops expansion accurately according to predetermined setting. Assures uniformly tight tube joints, prevents over- and under-expansion. This provides maximum holding strength for individual tubes. Strong, lightweight aluminum housing provides easier handling, less fatigue. Rugged drive combines precision control which measures torque output.
All Airetrol motors include a sensing cam designed and engineered specifically for tube expanding applications.
Right Angle Torque Controlled Rolling Motors - For the Boiler Industry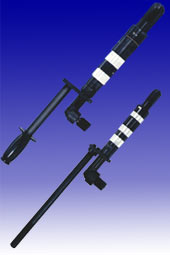 Right Angle Torque Control for Rolling Tubes into drums of package and stationary boilers
Features
| | |
| --- | --- |
| • | Externally adjusted torque control setting |
| • | Bevel gears specifically designed for longer life under high torque loading |
| • | Planetary gear train permits tool speed changes with minimal part replacement |
| • | All steel angle head can be oriented in numerous positions in relation to throttle and torque mounting plate |
| • | Fully adjustable exhaust deflector has 360 degree rotation |
To receive more information about the above products, please call, fax,
e-mail
or use our
Inquiries page

Tools for Industry Inc.,
812 Oceola Drive, P.O. Box 7555, Algonquin IL. 60102
Phone: (847) 658-0455, Fax: (847) 658-4555, Toll Free: (800) 658-8014, E-mail:
TFIinc1@aol.com