Pneumatic/Hydraulic Semi-Automatic Tube Pullers
For Light to Medium Duty Applications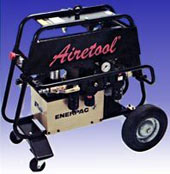 The Airetool Model PATP-9400 tube puller develops 13-3/4 tons of pulling power to easily remove tubes up to 1 in. O.D. from tube sheets up to 1-1/2 in. thickness.* Quick attaching grippers bite uniformly into the tube l.D. as the piston retracts, pulling the tube from the sheet.
This puller provides a full 4-3/4 in. total pulling length through a double 2-3/8 in. pull. Cycle time is controlled from the handpiece through a pneumatic circuit, providing better operator control and improving productivity. The puller reverses instantly at the end of the pulling cycle or when the trigger is released.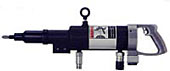 The durable hydraulic pump has large wheels for easier movement over uneven surfaces and heavy duty lifting handles. A convenient hanger on the lifting handle allows handpiece to be neatly stored when moving unit or between jobs.
Control tubes and hoses are wrapped together for greater safety, and the hydraulic hoses have quick disconnect fittings for simplified attachment to the pump and cylinder.
* Puller capacity of the ATP will vary with tube wall thickness, tube sheet thickness and tube material.