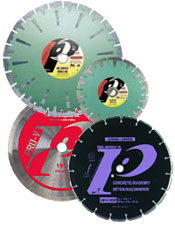 Great for Cutting Alsphalt, Block, Brick, Concrete, Marble, Natural Stone, Refractory Materials, Soft Stone and Sand Stone.
Features
• Alternating deep and semi-deep diamond segments protect the core from excessive wear preventing undercut by alternating the length of the diamond segments.
• Wear resistant high strength steel core.
• Added protection of 42.9mm segments protect & strengthen the core & prevents blade wobble.
• 100% GE Diamonds for superior cutting performance.
• Diamond bond specially designed for abrasive materials.