Dust Containment Systems
Pearl Abrasive Co. offers an assortment of dust containment systems for cleaner and healthier workplace. Pearl has a variety of dust control systems for cutting, grinding, and sanding. Weather you are using a circular saw, angle grinder, or floor sander, Pearl has the solution to eliminate the dust.
For Grinders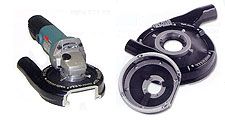 VACU-GUARD™ for 4-1/2" and 7" Grinders
Available with tungsten carbide wear pads for longer life! Durable and effective dust containment system. For grinding only. Adapts easily to a variety of angle grinders. Pearl's exclusive flexible diaphragm allows the operator to adjust the grinder angle without sacrificing dust containment efficiency. A special Delrin seal strip allows the unit to flow easily over a variety of surfaces.
---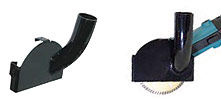 QUIKATTACH™ for 4" and 4-1/2" Grinders
• Installs in seconds.
• No tools required.
• Easy to use.
For Buffers
BUF-VAC™ for 17" Buffers
• Designed to adjust to any 17" buffer.
• Installs in just minutes, no special tools needed!
• Includes: Vacuum hose port, Rubber vacuum shield.
For Circular Saws
SAW VAC™ For Circular Saws
• Includes: Baffles and bolt, vacuum hose and releasable cable tie.
• Made of Duty ABS Plastic for durabilty.
• Does not obstruct operator's view.
• Collects up to 95% Of dust!
• Works well with your Blade Roller.
Will Fit the Following Saws:
• Skil® 7-1/4" (HD77 and HD77 Mag)
• Skil® 8-1/4" 5860 (with slight modification)
• Bosch® Model 1677M worm drive saw
To receive more information about the above products, please call, fax,
e-mail
or use our
Inquiries page

Tools for Industry Inc.,
812 Oceola Drive, P.O. Box 7555, Algonquin IL. 60102
Phone: (847) 658-0455, Fax: (847) 658-4555, Toll Free: (800) 658-8014, E-mail:
TFIinc1@aol.com