3WTTC-2000 Wheel Type Tube Cutter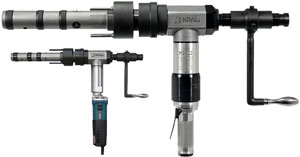 The all new 3WTTC-2000 Wheel Type Tube Cutter for quick and productive cutting and trimming of boiler tubes. It can be pneumatically or electrically driven and uses an industry first 3 cutting wheel design, engineered to provide unmatched performance.
The 3WTTC-2000 greatly reduces cutting time over traditional one wheel cutters by utilizing the 3 point-centering cutter wheel design.
The tool does not create any chips during the cutting process that need to be collected, which greatly reduces work time and increases productivity.
Main Technical Data
Cutting Range

2", 2-1/2", 3" OD

50.8, 63.5, 76.2 mm
Material
ferrous and non-ferrous
Cutting Method
3 cutting wheel
Power
1.3 Hp
Free Speed
100 Rpm
Torque
105 Ft. Lbs.
140 Nm
Air consumption
55 cfm
1.3 m3/min.
Width without head
2.32"
59 mm
Height
13.1"
335 mm
Weight
23 Lbs
10.5 kg