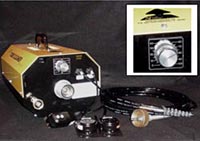 These light weight, powerful 115 volt 60 Hz machines can be supplied with either single speedor adjustable RPM control and forward/reverse or single directional rotation.
The JM1900-RS reversible unit is the ideal machine for today's quality oriented market. The drive unit is a light-weight 40 lbs., and is powered by a 1/2 horsepower DC motor with solid state variable speed control. The 0-1800 RPM capability is invaluable for internally rifled high performance tubes. The brush RPM can be adjusted down to provide the optimum speed for a comfortable shaft feed rate (while maintaining a constant motor torque output). An integral water flush feature purges the dislodged deposits during the brushing operation. The JM1900-S is a single directional, ½ HP DC motor powered unit with variable speed control. The JM1200-S, 1140 RPM constant speed, single direction unit, rounds out the product line as an economic machine for smooth bore tube use.
The JM series provides you with the all the features that you need for today's competitive market, not heavy, bulky machines with expensive extras like water pumps that can freeze up or over powered motors requiring heavy duty power cords and 20 amp wall outlets. Ask for our competition's referenced price list for drive units, flexible shafts, brushes, cleaning tools and accessories and you too will become our valued customer.
JM1900-RS
JM1900-S
JM1200-S
Flexible shaft speed
0-1800 RPM
0-1800 RPM
1140 RPM
Motor Power
½ HP, 6 Amps
½ HP, 6 Amps
1/3 HP, 6 Amps
( 50 HZ Motors Available)
60 HZ, 115 Volts
60 HZ, 115 Volts
60 HZ, 115 Volts
Input water
Garden hose
Garden hose
Garden hose
Unit Dimensions
11"w x 17"l x 9"h
11"w x 17"l x 9"h
11"w x 17"l x 9"h
Unit weight
40 lbs.
45 lbs.
45 lbs.
* All drive units are G.F.I. protected / Dolly cart optional / Captive manifold "o" ring standard