Industrial Impact Tools

Features of ATP Professional Impact Tools
| | |
| --- | --- |
| • | Alloy steel hammer cases machined from solid bar stock. |
| • | Model number stamped in motor housing under name plate for permanent identification. |
| • | High power to weight ratio. |
| • | 100% parts interchangeability to the equivalent tool. Your replacement parts inventory will work for any tool purchased. |
| • | 100% American made. |
ATP 5040 Impact Wrench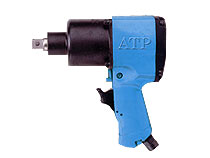 ATP's new 1/2"ATP-5040 Impact Wrench is ideally suites for heavy-duty maintenance and assembly applications. The "rocking dog" clutch is designed for either soft or hard-pull conditions, with a super fast run down. The three-poece housing provides access to all moving parts while the ol bath clutch provides for constant lubrication for added durability.
Applications
Auto/Truck/Tractor sub assembly, drilling wooden beams and poles, lag screw driving and general equipment maintenance.
ATP 2588 LT-TH Super Duty Impact Wrench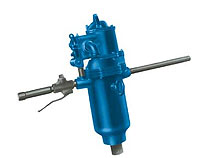 ATP 2588 LT-TH features an alloy steel hammer case that is machined from solid bar not drawn or cast. The model number is stamped in the motor housing under the name plate for permanent identification. The ATP 2588 LT-TH has a bolt capacity from 2"-4" and a 2-1/2" data shank.
ATP 7506 Heavy Duty Impact Wrench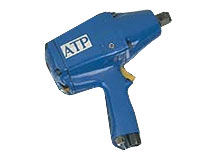 The ATP 7506 is a powerful heavy duty 3/4" wrench. It is compact and easy to handle, suited for continuous duty cycles.
Applications
Ideal for industries such as petrochemical, metals, motor vehicles, construction, and machinery/equipment, disassembly, main­tenance and repair.
Features
| | |
| --- | --- |
| • | 3 Jaw Clutch for quick run down and fast torque build-up |
| • | 3 piece housing construction for ease of maintenance |
| • | Oil lubricated clutch for long life |
| • | Teasing throttle for easy bolt starting Excellent choice for soft pull-up jobs |
Twin Hammer Series
| | |
| --- | --- |
| • | Steel clutch housing |
| • | Three piece housing construction |
| • | Pressure feed lubrication for impact mechanism |
| • | Built in oil lubricator for air motor |
| • | Available with #5 spline or square drive |
| • | Exhaust with noise reducing muffler |
Ball and Cam Series
| | |
| --- | --- |
| • | Precision ball and cam mechanism - converts torque into powerful rotary impacts |
| • | Time tested design - for maximum durability |
| • | Ideal for soft joint applications |
Two Jaw Clutch Series
| | |
| --- | --- |
| • | Steel clutch housing |
| • | Three piece housing construction |
| • | Available with #5 spline or square drive |
| • | Exhaust with noise reducing muffler |
| • | Available with inside or outside throttle |
› Specifications
To receive more information about the above products, please call, fax,
e-mail
or use our
Inquiries page

Tools for Industry Inc.,
812 Oceola Drive, P.O. Box 7555, Algonquin IL. 60102
Phone: (847) 658-0455, Fax: (847) 658-4555, Toll Free: (800) 658-8014, E-mail:
TFIinc1@aol.com