OZAT Sockets

Why OZAT?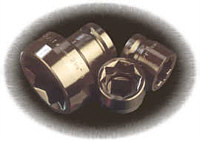 OZAT socket design is clearly superior to most other sockets available. Their state of the art electro-chemical machining process makes it possible for OZAT to produce all of their sockets in the less-stress™ configuration illustrated below.

Without these special machining capabilities, cost of producing the preferred less stress sockets becomes prohibitive. Manufacturers who use the normal broaching method to achieve the hex pattern in their sockets, may have to compromise in the selection of suitable steel, OZAT is able to specify the most perfectly matched material from which to manufacture the most durable and reliable sockets available.

The OZAT difference results in longer socket and fastener life and cost savings to the user.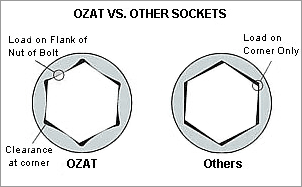 1/2" Square Drive
5/8" Square Drive

• Six Point Impact Sockets
• Twelve Point Impact Sockets
• Hex Driver Sockets
• Tire Shop Flip Sockets
• Socket Sets
• Accessories

• Six Point Impact Sockets
• Accessories


3/4" Square Drive
1" Square Drive

• Six Point Impact Sockets
• Eight Point Impact Sockets
• Twelve Point Impact Sockets
• BUDD Wheel Sockets
• Hex Driver Sockets
• Double Square Impact Sockets
• Accessories

• Six Point Impact Sockets
• Eight Point Impact Sockets
• Twelve Point Impact Sockets
• BUDD Wheel Sockets
• Hex Driver Sockets
• Double Square Impact Sockets
• Accessories
1-1/2 Square Drive
2-1/2 Square Drive

• Six Point Impact Sockets
• Accessories

• Six Point Impact Sockets
• Accessories
3-1/2" Square Drive
#5 Spline Drive

• Six Point Impact Sockets
• Accessories

• Six Point Impact Sockets
• BUDD Wheel Sockets
• Accessories
To receive more information about the above products, please call, fax,
e-mail
or use our
Inquiries page

Tools for Industry Inc.,
812 Oceola Drive, P.O. Box 7555, Algonquin IL. 60102
Phone: (847) 658-0455, Fax: (847) 658-4555, Toll Free: (800) 658-8014, E-mail:
TFIinc1@aol.com