Clamshells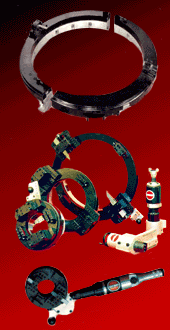 The NB Series of O.D. Split Frame are one of the most durable in the industry. Due to a patented bearing system, D.L. Ricci has created a very low profile machine capable of cutting all wall thickness and alloys of pipe. The split frame design allows for setup in very restricted areas with minimal time and effort.
Pipe O.D. ranges that can be machined with the NB Clamshells are from 1.900" to 43.00".

The MC Series of Clamshells is the most stable Split Frame Clamshell in its class. Capable of severing, beveling, socket weld removal, and counterboring in pipe or tubing ranging from .50" to 2.50" O.D

The HD Series of clamshells can handle large diameter pipe and tube machining with ease. Capable of severing, beveling, boring, and facing any alloy or wall thickness. Operates either with single or dual drive systems and choice of hydraulic or air. Pipe O.D. Ranges that can be machined with the HD Clamshells are from 16.00" to 110.00" O.D. With its narrow design, the HD Clamshells will fit into areas other large machines cannot.
Specifications

NB Series Clamshell

Model
Unit of
Measure
* Actual Size
A
B
C
D
E
NB 4
Std - in
Metric - mm
1.900 - 4.5
48.3 - 114.0
9.25
235
4.75
121
3
76
2.25
57
4.5
114
NB 6
Std - in
Metric - mm
2.375 - 6.625
60.3 - 168.3
11.375
289
6.875
175
3
76
2.25
57
4.5
114
NB 8
Std - in
Metric - mm
3.5 - 8.625
88.9 - 219.1
13.375
338
8.875
225
3
76
2.25
57
4.5
114
NB 10
Std - in
Metric - mm
4.5 - 10.75
114.3 - 273.1
15.75
400
11.25
286
3
76
2.25
57
4.5
114
NB 12
Std - in
Metric - mm
6.625 - 12.75
168.3 - 323.9
17.75
451
13.25
337
3
76
2.25
57
4.5
114
NB 14
Std - in
Metric - mm
8.625 - 14
219.1 - 355.6
19.75
502
14.5
368.3
3
76
2.25
57
4.5
114
NB 16
Std - in
Metric - mm
8.625 - 16
219.1 - 406.4
21
533
16.5
419
3
76
2.25
57
4.5
114
NB 18
Std - in
Metric - mm
12.75 - 18
323.9 - 457.2
23
584
18.5
470
3
76
2.25
57
4.5
114
NB 20
Std - in
Metric - mm
14 - 20
355.6 - 508.0
25
635
20.5
521
3
76
2.25
57
4.5
114
NB 24
Std - in
Metric - mm
18 - 24
457.2 - 609.6
29
737
24.5
622
3
76
2.25
57
4.5
114
NB 26
Std - in
Metric - mm
20 - 26
508.0 - 660.4
31
787
26.5
673
3
76
2.25
57
4.5
114
NB 28
Std - in
Metric - mm
22 - 28
558.8 - 711.2
33
838
28.5
724
3
76
2.25
57
4.5
114
NB 30
Std - in
Metric - mm
24 - 30
609.6 - 762.0
35
889
30.5
775
3
76
2.25
57
4.5
114
NB 36
Std - in
Metric - mm
30 - 36
762.0 - 914.4
41
1041
36.5
927
3
76
2.25
57
4.5
114
NB 39
Std - in
Metric - mm
33 - 39
838.2 - 990.6
44
1118
39.5
1003
3
76
2.25
57
4.5
114
NB 43
Std - in
Metric - mm
37 - 43
939.8 - 1092.2
48
1219
43.5
1105
3
76
2.25
57
4.5
114
* The size ranges listed are for commercial steel pipe

MC Series Clamshell

Model
Unit of
Measure
* Actual Size
A
B
C
D
E
MC 1
Std - in
Metric - mm
.840 - 1.900
21.3 - 48.3
5.437
138.1
1.625
41.3
3.25
82.6
1.75
44.5
4.312
109.5
MC 2
Std - in
Metric - mm
.840 - 2.375
21.3 - 60.3
6.437
163.5
2.625
66.7
3.25
82.6
1.75
44.5
4.312
109.5
* The size ranges listed are for commercial steel pipe

HD Series Clamshell

Model
Unit of
Measure
* Actual Size
A
B
C
D
E
HD 28
Std - in
Metric - mm
16 - 28
406.4 - 711.2
38.125
968.4
29
736.6
5
127
4.562
115.9
6.75
171.5
HD 30
Std - in
Metric - mm
18 - 30
457.2 - 762.0
40.125
1019.2
31
787.4
5
127
4.562
115.9
6.75
171.5
HD 32
Std - in
Metric - mm
20 - 32
508.0 - 812.8

42.125
1070

33
838.2
5
127
4.562
115.9
6.75
171.5
HD 36
Std - in
Metric - mm
24 - 36
609.6 - 914.4
46.125
1171.5
37
939.8
5
127
4.562
115.9
6.75
171.5
HD 43
Std - in
Metric - mm
31 - 43
787.4 - 1092.2
53.125
1349.4
44
1117.6
5
127
4.562
115.9
6.75
171.5
HD 50
Std - in
Metric - mm
38 - 50
965.2 - 1270.0
60.125
1527.2
51
1295.4
5
127
4.562
115.9
6.75
171.5
HD 60
Std - in
Metric - mm
48 - 60
1219.2 - 1524
70.325
1786.3
61
1549.4
5
127
4.562
115.9
6.75
171.5
HD 80
Std - in
Metric - mm
62 - 80
1574.8 - 2032.0
90.325
2294.3
81
2057.4
5
127
4.562
115.9
6.75
171.5
HD 110
Std - in
Metric - mm
82 - 110
2082.8 - 2794.0
120.325
3056.3
111
2819.4
5
127
4.562
115.9
6.75
171.5
* The size ranges listed are for commercial steel pipe
To receive more information about the above products, please call, fax,
e-mail
or use our
Inquiries page

Tools for Industry Inc.,
812 Oceola Drive, P.O. Box 7555, Algonquin IL. 60102
Phone: (847) 658-0455, Fax: (847) 658-4555, Toll Free: (800) 658-8014, E-mail:
TFIinc1@aol.com