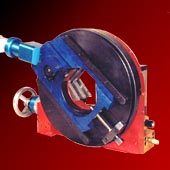 The all new ATS 6.0 tube and pipe saw is a versatile alternative for in-shop or on-the-job light wall tube and pipe cutting. Our unique fast acting "self centering" clamping system makes setup on pipe and tube as easy as turning a screw.
The positive gripping jaws automatically self center and hold all size ranges of tube and pipe from .125" OD to 6.625" OD. Positive clamping and close blade proximity assure square cuts and preps. Our unique double blade mounting system, allows out board blade orientation for cutting various fittings and valves. The durable cutting blades provide smooth and clean cut ends that are ready for assembly or welding.
All machines come with an adjustable speed, bi-directional automatic servo feed control. The cutting blade is powered by a powerful, 1010 watt, variable 2 speed 120 vac, (220 vac optional) electric drive motor.