Contractor Eqipment
Hulk - Gas Powered Compactation Plate
A superb addition to the Evolution Build product range. This compaction plate is ideal for the building and lanscaping industries. A professional quality machine offering amazing value for money, this machine offers a very realistic alternative to hiring for many users. Powered by a 2.4hp gasoline engine this is a compact machine and very portable, but rest assured although small in size performance is not compromised.
•
High centrifugal force for powerful performance.
•
Low frequency & high amplitude for better soil compaction.
•
Thick durable base plate.
•
Low maintenance vibration unit.
•
Easy fold handle for storage and transportation.
•
Compact design for manoeuvrability.
•
Powerful 2.4hp motor.
•
High quality construction.
Hulk - Electric Powered Compactation Plate
This innovative electric compaction plate is the perfect tool for work on patios, extensions, landscaping and other residentially based jobs. Powered by a reliable, high quality induction motor this machine is very quiet and because no harmful fumes are omitted it is ideal for use in enclosed spaces. The HULK Electro is also highly portable with additional roll bars offering increased strength and protection during transportation.
•
Reliable and quiet, high quality induction motor.
•
Low maintenance power unit.
•
Easy to start and simple to operate.
•
No harmful fumes omitted, ideal for use in enclosed spaces.
•
Folding handle for convenient transportation and storage.
•
Compact design, easy to maneuver in restricted spaces.
•
Extremely portable.
•
Vibration damper system, increases user comfort.
•
High quality construction
Twister Multipurpose Mixer
A high quality mixer with variable speed control, from 250-750rpm. Featuring a robust headstock and an ergonomic handle for maximum comfort and control. There really is no substitute for a dedicated mixer, they're fast and easy to use, and at this price it's an excellent investment.
Designed to handle construction materials such as:
• Plaster • Mortar • Tile Cement
• Cement Lime • Epoxies • Artex
• Screeds & Sealants
• Gypsum & Granulates

Features
•
Multipurpose balanced paddle system
•
Ergonomic handle design with soft grips
•
Powerful hi-torque motor
Evolution Cyclone Magnetic Stick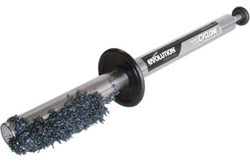 Fabricating in Steel can be a messy business, Evolution have the perfect tool to quickly clean up your metal shavings and scrap pieces.

Simply wave the Magnetic Stick over the metal shavings to pick them up, carry them over to your scrap barrel, pull the plunger and the shavings are neatly deposited. The Cyclone's magnet is strong enough to quickly clean up your biggest mess of metal shavings.

Evolution Cyclone2 Magnetic Stick
The Cyclone Sweeper is an essential addition to any steel working workshop, garage, driveway or yard.
In addition to the Cyclone Magnetic Stick, Evolution also offer this superb floor sweeper. Simply sweep over ferrous metal debris then slide the collar to neatly deposit the waste. This ensures that awkward metal objects are easily cleared, often missed by a conventional brush, especially on an uneven surface.

To receive more information about the above products, please call, fax,
e-mail
or use our
Inquiries page

Tools for Industry Inc.,
812 Oceola Drive, P.O. Box 7555, Algonquin IL. 60102
Phone: (847) 658-0455, Fax: (847) 658-4555, Toll Free: (800) 658-8014, E-mail:
TFIinc1@aol.com