TCT Saw Blades
The ultimate in quality and durability, Evolution blades are designed for Evolution Steel cutting saws, but can also be fitted to other brands.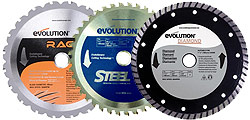 A wide range of blade types are available to suit most applications. Evolution also offer a number of popular sizes in each blade. There are four different types of blade available; steel , stainless steel, aluminum and wood. They are available in several diameters and arbor mounts. Arbor hole reducing bushings are also available.
Detailed below is the current range of Evolution Power Tools blades.
| | | | |
| --- | --- | --- | --- |
| Dia. | Teeth | Bore | Application |
| 180mm / 7" | 36T | 20mm | Steel |
| 180mm / 7" | 68T | 20mm | Thin Steel |
| 180mm / 7" | 54T | 20mm | Aluminum |
| 180mm / 7" | 48T | 20mm | Stainless steel |
| 180mm / 7" | 30T | 20mm | Wood |
| 185mm / 7-1/4" | 40T | 16mm (5/8") | Steel |
| 185mm / 7-1/4" | 24T | 16mm (5/8") | Wood |
| 205mm / 8" | 50T | 16mm (5/8") | Steel |
| 230mm / 9" | 48T | 25.4mm (1") | Steel |
| 230mm / 9" | 80T | 25.4mm (1") | Aluminum |
| 230mm / 9" | 60T | 25.4mm (1") | Stainless steel |
| 230mm / 9" | 40T | 25.4mm (1") | Wood |
| 230mm / 9" | 30T | 25.4mm (1") | Aluminum |
| 255mm / 10" | 52T | 25.4mm (1") | Steel |
| 305mm / 12" | 60T | 25.4mm (1") | Steel |
| 305mm / 12" | 80T | 25.4mm (1") | Aluminum |
| 305mm / 12" | 80T | 25.4mm (1") | Stainless steel |
| 355mm / 14" | 66T | 25.4mm (1") | Steel |
| 355mm / 14" | 90T | 25.4mm (1") | Thin Steel |
| 355mm / 14" | 80T | 25.4mm (1") | Aluminum |
| 355mm / 14" | 90T | 25.4mm (1") | Stainless steel |
| 380mm / 15" | 70T | 25.4mm (1") | Steel |
Circular Saw Blade Arbor Reducer Bushings
| | | |
| --- | --- | --- |
| Part No. | Size | Description |
| CSBUSH20M5/8 | 20mm - 5/8" | Reduces 20mm bore to 5/8" |
| CSBUSH15/8 | 1" - 5/8" | Reduces 1" bore to 5/8" |

Tools for Industry Inc.,
812 Oceola Drive, P.O. Box 7555, Algonquin IL. 60102
Phone: (847) 658-0455, Fax: (847) 658-4555, Toll Free: (800) 658-8014, E-mail:
TFIinc1@aol.com