Hydraulic Pumps

Hand Pumps
Lightweight for Single Acting Cylinder
Simplex hand pumps are widely known for their rugged construction and low, back saving handle efforts. Choose these hand pumps for maximum portability & lightweight. All metal construction and hand size release knobs make these pumps truly industrial grade tools.

Features
•
8 models for maximum portability
•
Lightweight
•
All metal Construction
•
Handles for easy portability
•
External relief valve
•
Single or two speed models
•
3/8" NPTF outlet ports
Specifications

Two Speed for Single and Double Acting Cylinders
Simplex combined high flows & low handle efforts in these larger, high performance hand pumps. Low handle efforts & fast advance are achieved through an adjustable handle pivot. In the normal setting these pumps supply maximum flow reducing the number of required handle strokes. For tough jobs at maximum pressure, adjust the pivot point and reduce the handle effort by 30%. (P140 & P300 Series only).

Features
•
10 models
•
Low, back saving handle effort
•
High displacement of oil per stroke
•
Adjustable handle effort / dual point pivots
•
All metal construction
•
Large easy fill reservoirs
•
External adjustable relief valves
Specifications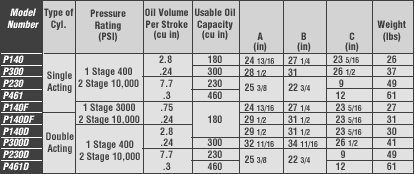 Electric Pumps
1/2 HP - 20 Series
These units feature 115V permanent magnet motors that will continue to operate on as low as 60 volts. The 20 Series pump is lightweight and portable, but powerful enough to start under full load, even on low voltage. Cast aluminum reservoirs dissipate heat and make these pumps rugged enough for the toughest construction environments.

Features
•
16 standard models

Pumps Available from 1/2 to 5 HP
•
Rated for continuous duty
•
Suc-O-Matic reduces retraction time
•
Two-speed operation
•
Higher crossover for faster cylinder rate
•
Starts under full load
•
Runs reliably on long extension cords
•
10 amp max. amperage draw
•
Adjustable relief for variable pressure settings
•
Dual ports
•
Quiet running (80dBA)
Specifications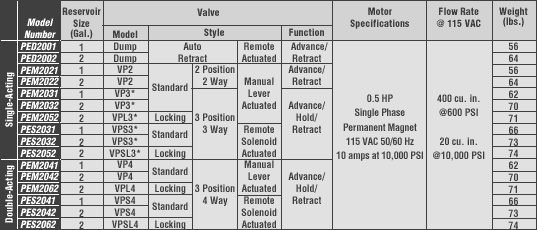 Custom Build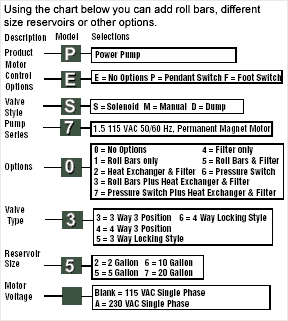 Rotary Air Pumps
For Quieter operation where compressed air is available, or for use in explosive environments. Delivers high speed operation for a variety of medium sized cylinders, hydraulic tools or systems.
Features
•
6 standard models
•
Suc-O-Matic reduces retraction time
•
Two-speed operation
•
Higher crossover for faster cylinder Cycle
•
Rotary air @ 50 cfm
•
Adjustable relief for variable pressure settings
•
Dual ports
Specifications

G-Series Pumps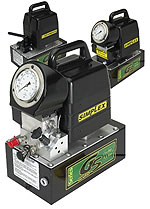 SIMPLEX introduces the new G3 and G5 Series High Force Hydraulic Power Pumps to the lineup. The G3 & G5 models were designed with the end user in mind; offering exceptional performance to weight ratios, enhanced power control technologies, precision tuned components for dependability and modular assemblies to manage operating costs.
Whether you select the G3 or G5 Series Power Pump, you can count on superior performance levels and reliability to get the job done!
Enhancements
New Motors
• Compact, lightweight universal motor reduces pump weight on G3 models.
• G5 Series heavy duty permanent magnet motor holds up in tough applications.
• Ideal for use with long extension cords.
• Motors provide reliable service on as little as 60 VAC.
• Operates at full pressure on a 20 amp @ 115 VAC circuit.
• Replaceable motor brushes / armature.
New Modern Shroud Design
• Integrated center-balanced handle for easy transport.
• Non-pendant pumps include On/Off/Jog switch recessed into the shroud.
• Integrated gauge shroud protects your investment.
Advanced Circuit Technology
• Improves pump performance through precise motor control.
• Onboard diagnostics keeps you informed.
• Fewer components and wiring reduces weight & increases dependability.
Power Control Center
• Lightweight, ergonomic pendants.
• Raised rubber buttons are easy to activate, reducing hand fatigue.
• Water resistant, sealed switches operate on 12 VDC.
• High strength material for durability in harsh environments.
• Pendant standard on all models except pumps with manual valves.
Enhanced Reservoirs
• Low profile design simplifies transport.
• Sight gauge enables the operator to monitor reservoir oil levels.
• Powder coated reservoirs stand up to the harshest environments.
• "Easy-Pour" fill and drain hole makes preventative maintenance quick and easy.
• Standard mounting holes to fit with optional roll cage or casters.
• Wide variety of capacities with 1, 1.5, 2.5, 5, 10 and 20 gallon reservoirs.

Click Here for More Information
To receive more information about the above products, please call, fax,
e-mail
or use our
Inquiries page

Tools for Industry Inc.,
812 Oceola Drive, P.O. Box 7555, Algonquin IL. 60102
Phone: (847) 658-0455, Fax: (847) 658-4555, Toll Free: (800) 658-8014, E-mail:
TFIinc1@aol.com