Angle Grinders
VARILEX® WSF 1600
The most powerful speed-controlled angle grinder in its class. Only 5.2 lbs.!
Variable speed from 2000 to 7300 RPM, 12.27 Amp (1350 W) power, disc change in seconds without tools. For disc diameters of 4", 4-1/2", 5", 6" and 7".
The VARILEX boasts a powerful motor up to 12.27 Amp, 1350 W that has been designed and developed for heavy industrial use. The speed is infinitely adjustable between 2000 and 7300 RPM. A tachogenerator keeps the speed constant, even when the grinder is operating at full load.
Sensitive variable-speed control makes the VARILEX ideal for use with both flap discs and grinding and cutting wheels.
Features
•
Doubles the service life of a flap disc
•
Prevents glazing of the disc and heat deformation on the workpiece
•
Drastically reduces the noise level
•
Optimal speed setting for a range of grinding and polishing tools, yielding perfect results every time
•
A balanced handle that ensures fatigue-free grinding
---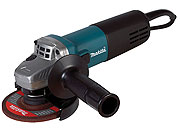 4-1/2" Angle Grinder - 9554NB
Features
•
Protective zig-zig varnish seals motor from contaminants by forming a barrier under rotation
•
Labyrinth construction seals and protects the motor and bearings from dust and debris by creating a complex set of channels
•
6.0 AMP motor design for high output power in a more compact tool (only 3.1 lbs.)
•
Thicker coil wires are wound more closely to reduce heat and energy loss
•
All ball bearing design and metal gear housing for durability
•
Rotatable gear housing rotates 90° for cutting applications
---
9" Angle Grinder - 18946
Features
•
15 Amps, 6,000 RPM
•
Vibration Control Side and Main Handles Reduces vibration up to 60%, providing uncompromising user comfort for extended periods of work
•
Tool-free Adjustment Guard Quick guard installation and adjustments
•
Metal Gear Cover Maximum durability
•
Lock-on/off switch For extended use applications
•
AC/DC Capability Extends the versatility of the tool by working from DC outlets such as welders and generators
•
Service Minder™ brushes eliminates guesswork, stops the tool when preventive maintenance is required
•
Precision spiral bevel gears quality engineering and construction for smooth power transmission
•
Epoxy-coated Field Windings Provides ultimate protection against abrasaive dust and metal debris
---
To receive more information about the above products, please call, fax,
e-mail
or use our
Inquiries page

Tools for Industry Inc.,
812 Oceola Drive, P.O. Box 7555, Algonquin IL. 60102
Phone: (847) 658-0455, Fax: (847) 658-4555, Toll Free: (800) 658-8014, E-mail:
TFIinc1@aol.com