Surface Finishing Machines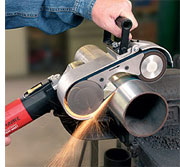 LBR 1506 Weld Seam Grinder & Pipe Sander
Electric or Pneumatic
The LBR 1506 is a combination grinder and pipe belt sander. The front hard rubber contact roller drives the abrasive belt to grind flat surfaces. It removes weld seams in a straight line, without leaving edges or a wavy finish. For sanding pipes or handrails, it is a flexible tool. The sanding belt follows every contour to grind and polish up to a high-gloss finish. The belt wraps around the pipe and requires only a few steps to polish the entire circumference. It is ideal for stainless steel, aluminum and high-quality metals.
| | |
| --- | --- |
| • | For sanding pipes from 3/8" to 10" diameter |
| • | Grinds weld seams on flat surfaces – leaves no edges |
| • | Powerful 11 Amp motor and variable-speed control from 33 to 100 ft./sec |
| • | Quick and easy tool-free changing of sanding belts |
| • | Ideal for stainless steel and aluminum |
---
LRP 1503 Boa Pipe Sander
Electric or Pneumatic
The LRP 1503 Boa Pipe Sander is the perfect solution for sanding and polishing pipe constructions. The sanding arm snakes up to 270° around the radius of the pipe. The operator simply rotates the BOA slightly to achieve a full 360° finish. Spring resistance between the deflection rollers ensures that the sanding arm and belt are always uniformly tensioned. The BOA saves time finishing stainless steel and other ferrous and nonferrous pipe.
| | |
| --- | --- |
| • | Variable-speed control; 12 to 40 ft./sec. belt speed |
| • | Maximum pipe Ø: 5" diameter |
| • | Quick, tool-free replacement of sanding belt |
| • | High-quality 270° sanding arm is made of light alloy with two deflection rollers for quick progress, perfect finish and simple operation |
| • | Additional side handle can be rotated 180° in narrow spaces |
---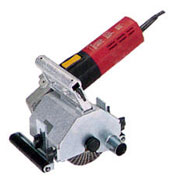 LP 1503 VR (Electric)
LP 1503 AIR (Pneumatic)
The powerful LP 1503 AIR/VR sanding/polishing machines produce a uniform surface finish faster and easier without leaving visible transitions or shadows. Compact, lightweight and heavy duty, the versatile LP 1503 AIR/VR are perfect for finishing, polishing, graining, brushing, blending, glazing, deburring, cleaning welds, roughing and more. Wide range of abrasive and polishing accessories are available.
Features
| | | | |
| --- | --- | --- | --- |
| • | Speed Preselection | • | Overload Protection |
| • | VR Full-Wave Electronic Control | • | 27 MM Suction Nozzle |
| • | Tachogenerator | • | Wrenches not required for changing brushes |
| • | Adjustable Guide Rollers | • | Air Cushioning |
| • | 100 MM Working Width | • | Rotary Cooling for Lower Temperatures |
| • | Smooth, Kick-Free Start | • | Light Weight (8 lbs.) |
---
To receive more information about the above products, please call, fax,
e-mail
or use our
Inquiries page

Tools for Industry Inc.,
812 Oceola Drive, P.O. Box 7555, Algonquin IL. 60102
Phone: (847) 658-0455, Fax: (847) 658-4555, Toll Free: (800) 658-8014, E-mail:
TFIinc1@aol.com