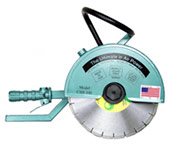 Hand-Held Cut-Off Saws, 14" and 18" Capacity
Saws to cut concrete, asphalt or metal. Heavy duty pneumatic saws are designed for construction, industrial and municipal cutting applications. Low maintenance. No carburetors or fuel lines to maintain. Cut wet or dry.
Ideal for sidewalk repair, pile cutting, demolition, bridge work and pipe cutting.
Features
| | |
| --- | --- |
| • | Wet or dry cutting of concrete, reinforced concrete, asphalt, masonry, steel and more... |
| • | Cut up to 7" depth with no gas or engine fumes |
| • | Low maintenance - no belts, pistons, fuel lines or carburetors |
| • | Accepts diaomond or abrasive blades |
| • | Adjustable blade guard with built-in water connection |
| • | Inline oiler for motor lubrication |
| • | 1" arbor size, 1/2" NPT air connection |
---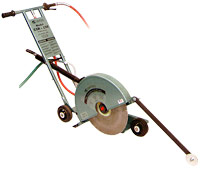 Walk-Behind Air-Powered Concrete Saw - 20" Capacity
The Model CSR 150 with 9.5 HP motor and gearbox is a powerful and versatile concrete saw. Rugged steel construction ensures long life and reduced vibration. A low maintenance air motor with gearbox eliminates the need to service belts, carburetors or fuel lines.

Designed for breaking out concrete and asphalt. Ideal for joint sawing, floor sawing, trenching, road repair and other cutting applications.

Features
| | |
| --- | --- |
| • | Wet or dry cutting of concrete, asphalt and more... |
| • | Cut up to 7" depth with no gas or engine fumes |
| • | Low maintenance - no belts, pistons, fuel lines or carburetors |
| • | Designed for tough cutting jobs, including joint sawing, floor sawing, trenching, road repair and plant maintenance |
| • | 9.5 HP pneumatic motor with gearbox drive |
| • | Rugged steel construction - yet only 107 lbs. |
| • | Built-in water connection |
| • | Built-in oiler for motor lubrication |
| • | Optional water tank kit |